Philips GoPure Premium Car Air Purifier SlimLine 230
Brand: Philips
Model: GoPure SlimLine 230
What's in the box: Slimline 230; Mounting Accessories;Cup-holder Kit; Attachment Belt; Power cable x 4m; 1 fragrance cartridge
Product details:
Fresh and healthy air in your car
Efficiently removes fine particles and toxic gases
Cleans your car air in just 13 min
Refreshes your air with natural fragrance
Automatic operations and filtration control
Air quality Indicator
Filter replacement indication
Perfect in-car integration with installation in cup-holder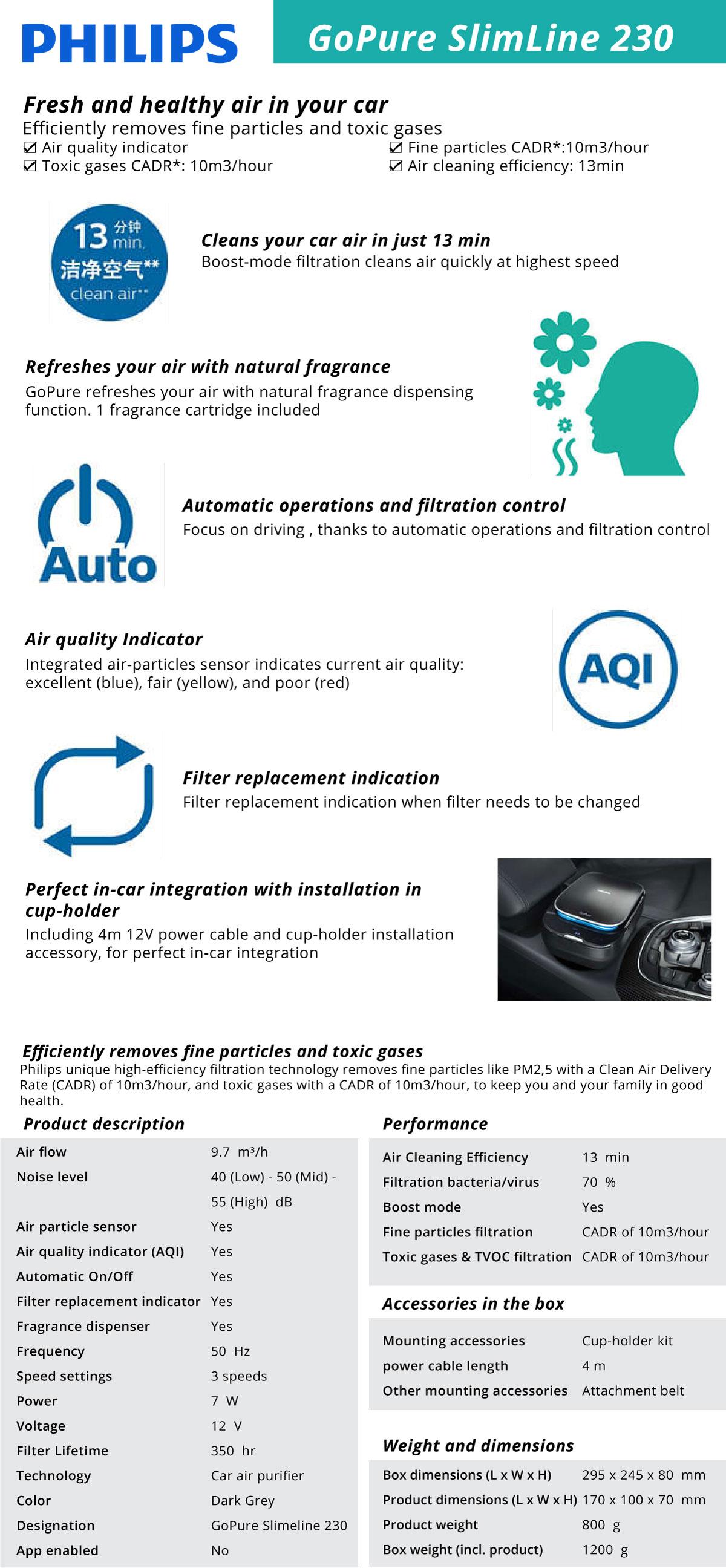 Recommended: Parents with young children and people who are more sensitive to pollutants for extra protection.

Accessories included:
-Mounting accessories: cup holder kit & armrest/headrest connector
Q&A
Q: How dangerous is air pollution for my family?
A: According renown institutes like, WHO and CNCI, air pollution affects our young children the most, where respiratory problems are increasing of children under 5 years old.


Q: What pollutants will be removed by GoPure?
A: GoPure cleans fine particles, at a CADR of 12m3/hr. which include PM2.5 dust, airborne virus and bacteria, pollens, cigarette smoke particles*.


Q: What makes GoPure HEPA filter technology unique?
A: GoPure Compact 100 is equipped with high grade HEPA filter, unlike other solutions in the market claiming to be HEPA like filters. Philips HEPA filter provides a Clean Air Delivery Rate (CADR) of 12m3/hour. This includes cigarette smoke, pollens, dust, PM2.5, and airborne bacteria and virus superior to 0,3 micron.


Q: How often should the filter be replaced?
A: As the filter will absorb the hazardous pollutants, after a certain time the fillter will be saturated and needs replacement. On average the filter lifetime can be up to one year, depending on the air quality level and the frequency of operation.
---